Now and Next: State of RPA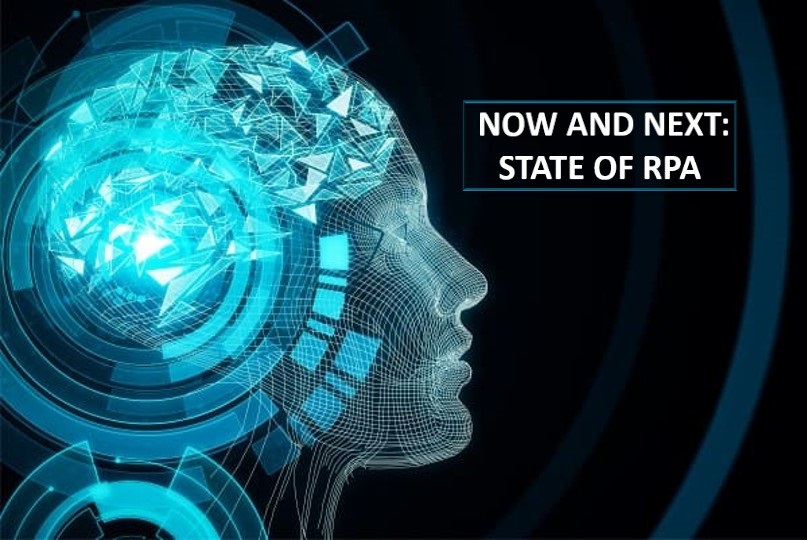 "Now and Next: State of RPA" report is designed to provide insights, best practices, and trends for organizations currently deploying or planning to deploy Robotic Process Automation (RPA) and Intelligent Automation (IA). This report has two components: results of a global survey by Enterprise Technology Research (ETR), an independent research firm, and insights from Automation Anywhere customer deployments.
EXECUTIVE SUMMARY
Based on the survey most of the organizations are using RPA. 63% of them are deploying or scaling their efforts rest 27% are on the learning phase towards the deployment of RPA.
Up-to 90% of an organization 's employees can reap the benefits of RPA. Currently, only 10-15% of employees use bots in their daily work schedule. There are significant opportunities as well for aggressive RPA adopters. 57% of organizations are planning to invest in RPA and IA in the next 12 months. We have seen an increase in RPA spending. Improvement in productivity has always been a priority, RPA can act as a driver towards productivity enhancement.
Looking from four priority areas – productivity, quality, higher value work and cost, RPA have given 2.5 times returns when compared to the investment required for RPA deployment. Among all, security, cloud migration and RPA have ranked in the top three priority technologies over the next 12 months by organizations. Smart analytics, customer centricity and chatbots are the most commonly used AI projects by organizations.
After deployment, many top organizations are also investing in training. Traditional and online both courses are popular for re-skilling employees with RPA and IA.
NOW: THE CURRENT STATE OF AUTOMATION
RPA and IA Increasingly Popular
As discussed 63% of organizations are already deployed as well as scaling RPA, while 27% organization are working towards RPA deployment. Those who are scaling are targeting different departments and several business units rather than focusing on a single process or department.
Many are still lagging, example: Many healthcare organizations are either "currently evaluating" or have no plans for RPA. Other organizations which lag RPA are services/consulting firms and government agencies.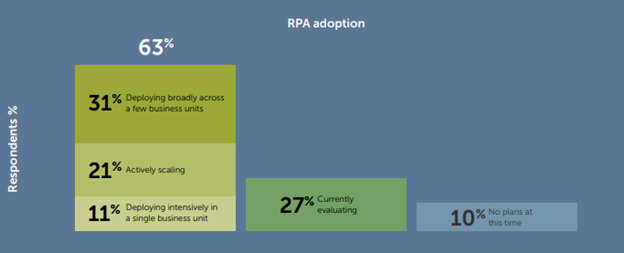 Due to lack of RPA expertise, budget and resources upto 10% industries have no plans to deploy RPA or IA. When investigated, go to know that these 10% industries have most frontline workers and managers who profess indifference to RPA benefits. This suggests that bottom-up strategies that prioritize engaging those employees and managers directly affected by RPA are key to successful deployment.

TOP USE CASES
RPA has been widely deployed not only in back office but as well as in front office. RPA mostly started from back office like IT, HR, operations but after the pandemic industries are deploying RPA in front office as well like in call centers and sales. Top use cases include:
Back Office
Finance: general ledger data reconciliation
Accounts payable: invoice processing and payment
HR/IT: new employee on-boarding
Front Office
Customer records management and account updates
Customer service request handling/call center support
Sales order processing
Top 10 Applications
Microsoft* SAP Oracle Adobe Salesforce Google ServiceNow Workday Citrix IBM
In addition to commercial applications, customers leverage RPA to connect to hundreds of internally developed, proprietary apps.
RPA Education on the Rise
With the increase in RPA adoption, leading companies are working towards scaling. They are training their employees with new technologies like RPA, IA. Such training workshops not only help to acquire skills to work with bots but even help them to create their own digital assistants. There has been a rise of 100-120% RPA students in the past 12 months. As more companies have started using RPA, the trend is expected to grow.
Significant Opportunities Abound, Even for More Mature RPA
Today 10-15% of employees per typical organization use bots for their jobs.
• More than half of organizations have deployed at least 10 bots
• On average, they deployed 50 bots each, with those that are "actively scaling" averaging 67 bots
• Formal centers of excellence (COEs) and business unit (BU)-led programs were more popular than informal or hybrid approaches
• Organizations that implemented formal COE or BU-led programs were far more likely to deploy and manage more than 100 bots compared to businesses taking less-formal approaches
The data points to the importance of positive employee engagement in RPA efforts. The more mature organizations had both a high level of excitement among C-suite executives and directors and a lack of indifference among managers and front-line workers.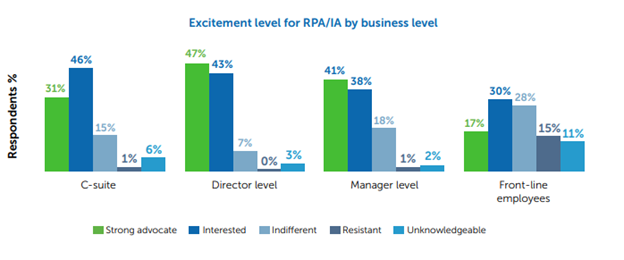 Productivity: The Top Driver of RPA and AI
The priority goal of an organization is productivity. RPA can be an initiative towards improving productivity. Organizations that deployed more than 100 bots are more likely to achieve their goals. Once productivity gets improved, the organizations can focus on moving the workforce to higher value work along with cutting costs.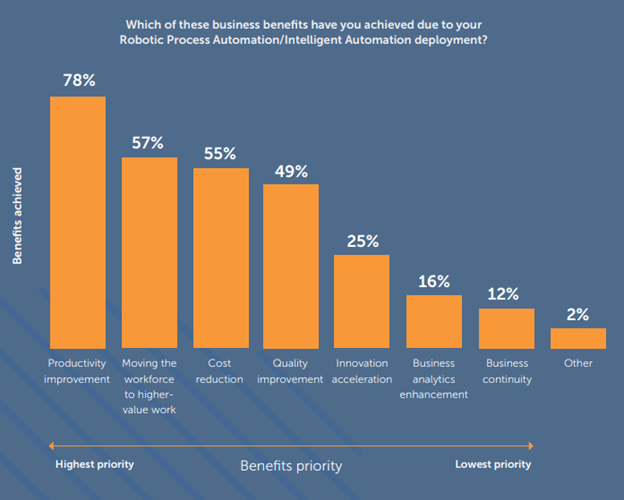 Top 5 Reasons for RPA Deployment
• Productivity improvement
• Average ROI
• Quality improvement
• Cost savings
• Higher-value work
Next: 12-to-24 Month Outlook
Spending on RPA and IA Will Stay Strong
With theadvent of RPA, 57% of organizations are planning to spend more on RPA in the next 12 months. The increase ranges from 5%-25%. The organizations who already have deployed RPA doesn't seem to have a plan to increase in expenditure, while very few anticipate to decrease RPA spending. Top ROI performers seem to have higher spending on RPA compared to others.
Majority of new adopters of RPA are from small to midsize businesses. Top Global and fortune firms have already begun RPA deployment. Current trend clearly states the rapid adoption of RPA amount small as well as large businesses even in such pandemic situations.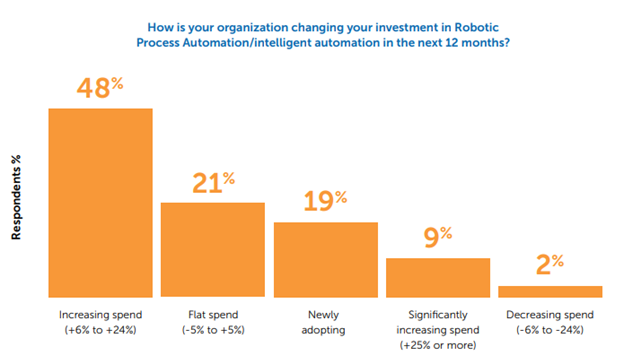 Change Management and Training Necessary for Newly Automated Businesses
With the growth of RPA, not only technology changes are taking place but also huge organizational change is on the way. Automation is giving employees time, which can be used on value added tasks. As automation is taking over, businesses must focus on change management, training and retraining. Along with hiring automation talent, businesses must organize workshops, interactive classes and provide resources to the business units.
Read full article – https://www.automationanywhere.com/lp/now-and-next-rpa-report