Eliminate obstacles with AI guide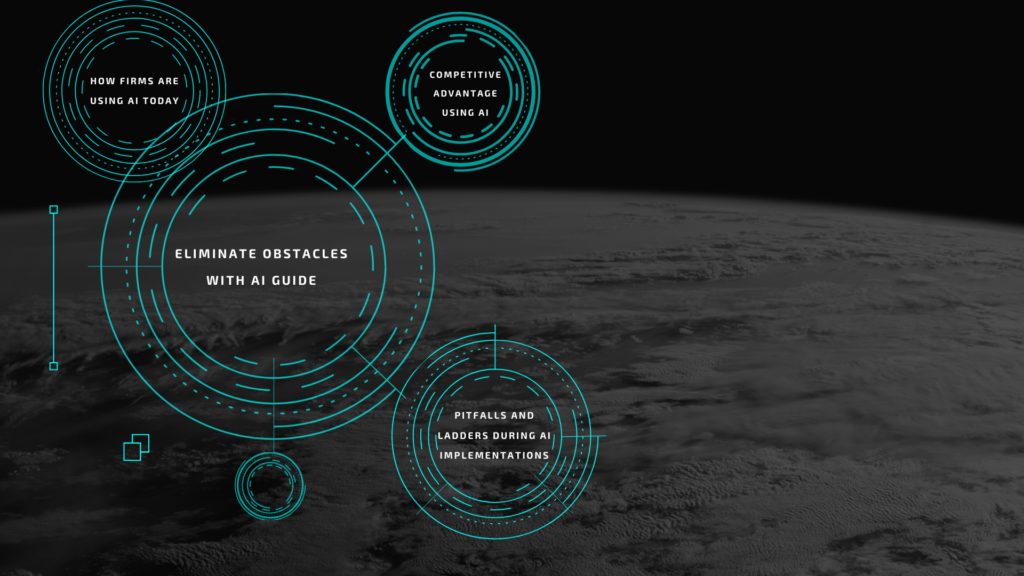 In a time when businesses are rapidly transforming and scaling in the digital world, AI is playing a leading role. With the expansion, it becomes crucial for industries to reduce costs, increase productivity, and improve customer experience. AI has an immense capability to add value to organizational growth. Based on surveys, AI is benefiting industry leaders to stay on top. According to Forrester, one survey taker said, AI improves our quality and optimizes all the processes needed for operations and customer experience.
Top enterprise leaders agree: AI is a key to success and digital transformation. 60% of business leaders consider AI initiative as a critical step towards their digital gains. From enhancing customer experience to improving revenue, AI-driven insights helped the enterprise in all verticals.
Knowing the significance of AI for modern, digital enterprises, find out how firms are using AI today
› AI doctor for business health – AI supplements all the verticals of business touching customers, employees, and the bottom line, following the goals of Increasing revenue growth, improving employee productivity, improving customer experience, and increasing profitability. 70% of enterprises are expanding their AI models in customer service, operations, and business intelligence. A Forrester survey reveals business with AI models has five times more chances of being an industry leader.
› Prioritizing training for AI initiative – Up to 60% of enterprises are training their staff on AI, Machine learning, Deep learning. Use cases must be designed for Business processes. Using AI use cases is equally important along with Development, integration, monitoring. Without proper training and skills, businesses can fail miserably to execute AI models.
There are challenges as well while scaling AI. But as said, "We do not grow when things are easy; we grow when we face challenges". AI can be the engine that can power the next age of human progress.
Listed below are some of the ins and outs of AI while implementation and scaling.
› Data Quality and Quantity – As we know, AI is all about training and testing datasets. For training, the foremost requirement is a high volume of datasets. Volume and quality can only result in a highly reliable AI. According to a Forrester survey – 90% of firms are having difficulty scaling AI across their enterprises, and data is a significant reason. Most of them don't know their AI data needs.
› Data Labelling – With IoT, a large number of available data is in the form of images and videos. There are ways to label these datasets, using synthetic labeling or data programming. Struggling to ensure data quality and data integration can sometimes lead to increased costs, risk, and taking a long time.
› Lack of AI Skilled Employee – Successful scaling and integration require the right set of data engineers, data scientists, and developers. Lacking this can be an obstacle on the road of AI benefits. Training of the employee should be a prioritized task to take AI initiative at the next level.
Even Data engineering, data science, and developer skills are all in short supply by 30-35%.
› Requisite of right tools – Dearth of required tools and knowledge available on open source is a crucial issue along with skills. Up to 50% lack the tools and platform to develop and operate the advanced AI models. Open-source ML programming models and frameworks are lacking the required support demanded by the advanced AI models.
Even after posing challenges, AI is essential for the survival of enterprises in the long run. More than 60% of firms experience better customer satisfaction, revenue, and profitability. AI has helped in other verticals of employee productivity, customer acquisition, and retention as well. Scaling AI can be hectic but not something worth ignoring. 40% of firms believe AI can help them become the leaders of the industry.
How to gain competitive advantage using AI
› Work on datasets and data management – To scale AI, one must have efficient data management capabilities. Most industries' data capabilities are limited to business intelligence requirements. Comprehensive data management can make data to be accessible for development. Even the best algorithm is ineffectual without rich datasets and efficient data management abilities.
› AI use cases – Before scaling AI, a business must know in which vertical AI can be efficient. Use cases help to design the real-time solution using AI. Use cases help to understand the technical feasibility and critical business processes. It should not only help in improving the existing business but also in the transformation to stand among top leaders.
› Skilled technical team – Implementation of AI requires multi-skilled employees consisting of data scientists, business analysts, developers, operations analysts, project managers. Every person must be skilled with AI models for the successful execution of AI into the business. A collaborative effort can lead to ease in developing use cases.