Unlock the immense potential of RPA
Accelerate Healthcare operations with RPA Services
Leverage RPA Services to seamlessly automate tasks, boost caregivers' productivity and deliver exceptional patient/ resident experiences.
See how it works
What is Robotic Process Automation (RPA)?
Robotic process automation (RPA) is a technology that allows providers to automate repetitive, rule-based tasks that are typically performed by humans. In the healthcare industry, RPA services can be used to automate a wide range of tasks, such as scheduling appointments, processing insurance claims, and managing electronic health records. RPA in healthcare organizations can benefit from this method by improving efficiency, reducing errors, and freeing up staff time to focus on more important tasks.
Optimizing LTPACs and CCRCs Across Functions through a Comprehensive Process Mapping
Interesting RPA use cases for LTPAC and CCRC
As AI & Automation Advisors and RPA Implementation Partners, we make sure that automation works as a bridge through the maze of software, breaks the siloes, and reduces repetitions by creating automation augmented workforce.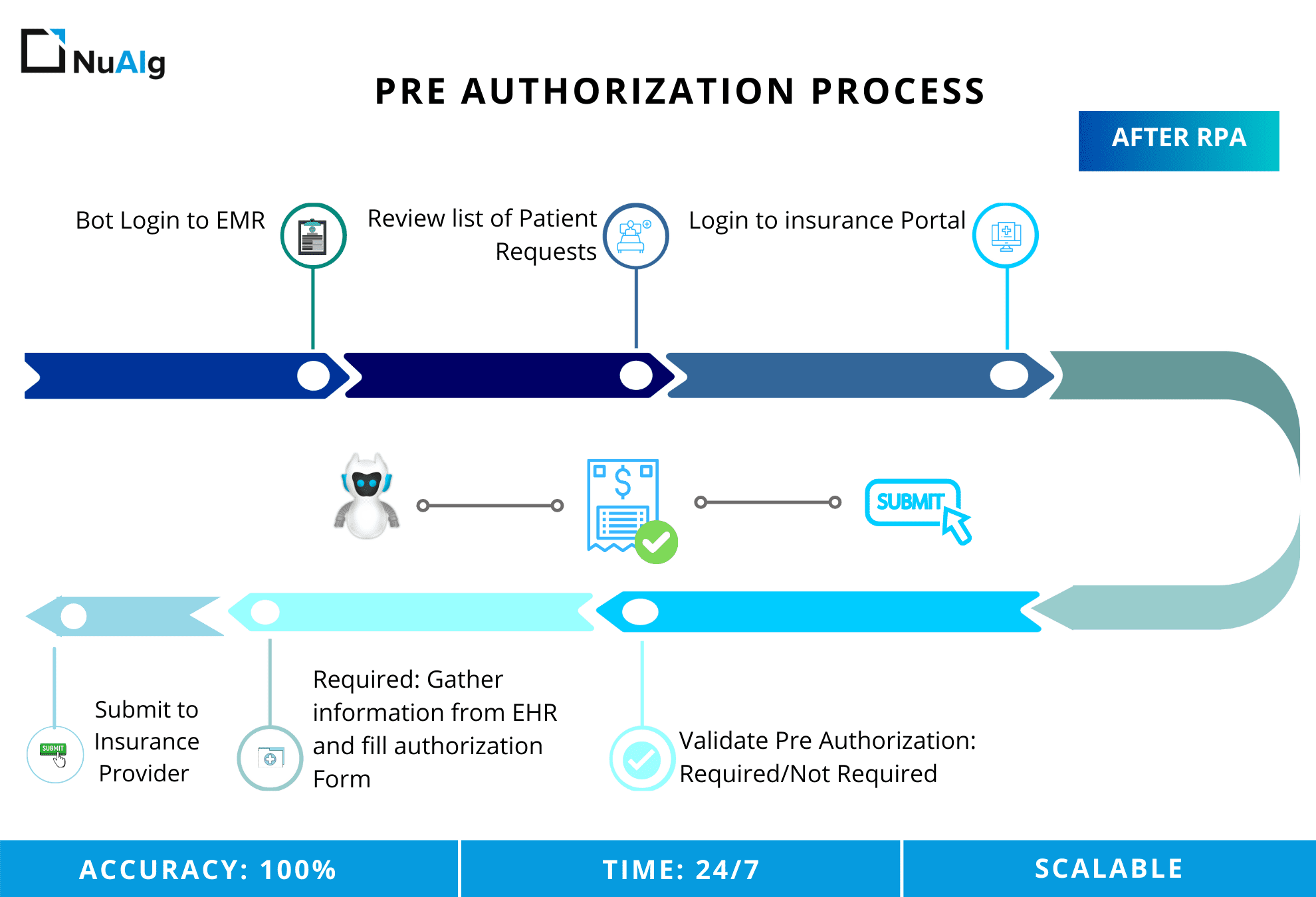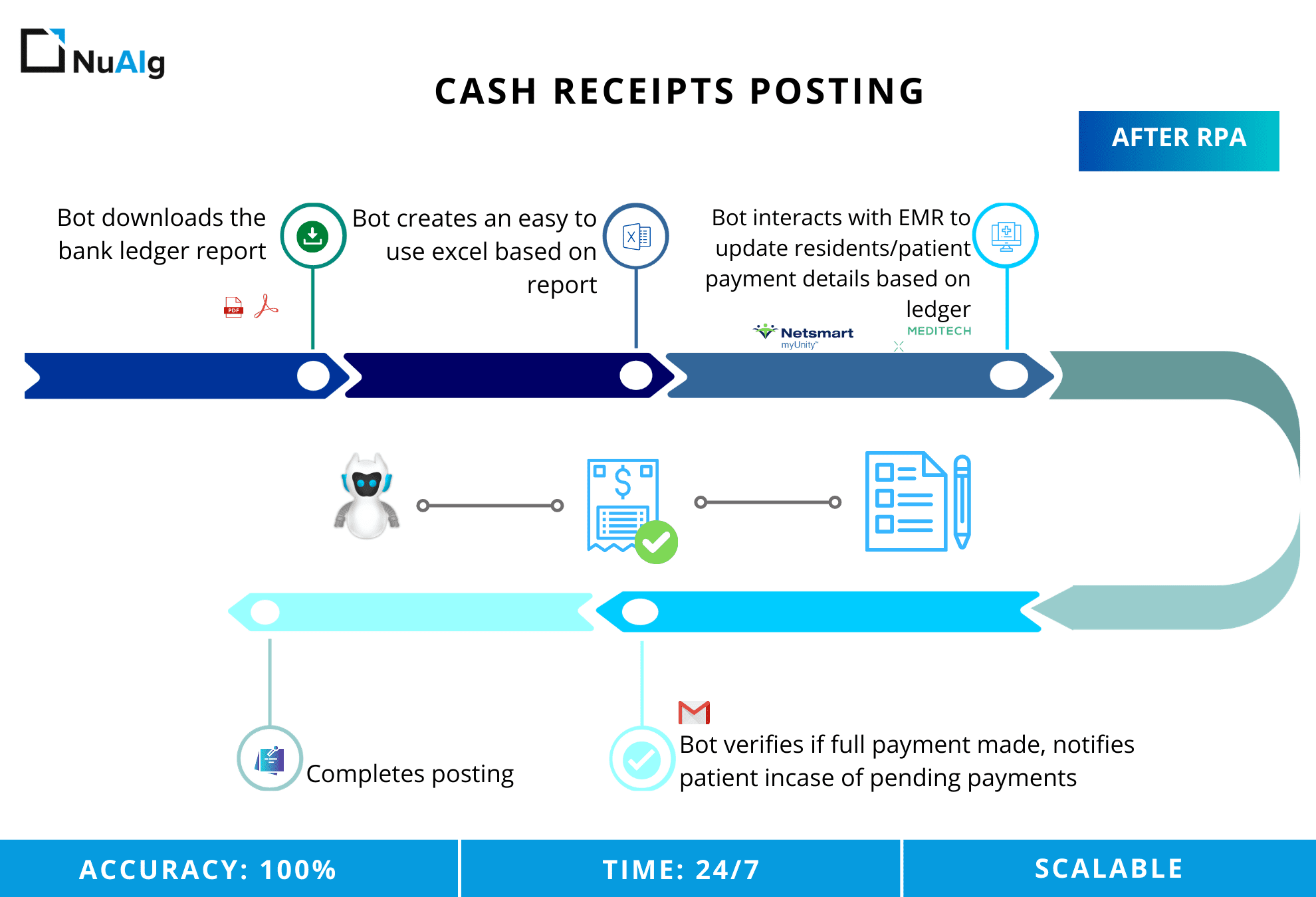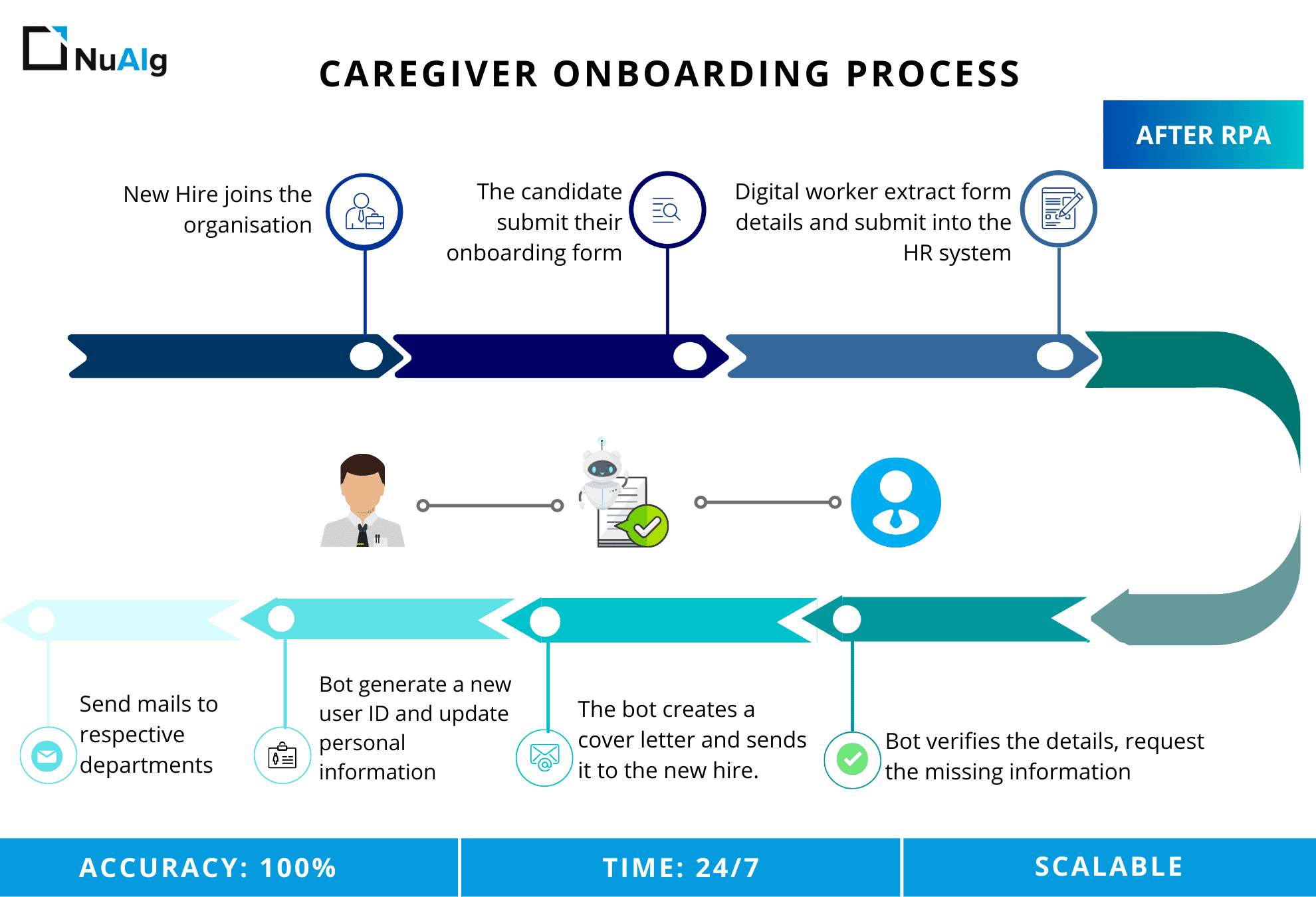 Robotic Automation Process Assessment & Advisory Services
Senior living providers need robotic process automation to accelerate digital transformation. Determining which processes should be automated in an organization is a critical step. NuAIg works as an RPA consulting company and has proven capability in designing and maintaining bespoke Robotic Process Automation solutions.
As part of our RPA solutions, we assist providers to define, discover, recommend the right processes for automation, and build a Proof of Value (PoV) that can establish the fit of RPA that results in a near zero-touch process with improved efficiency and amplified business value.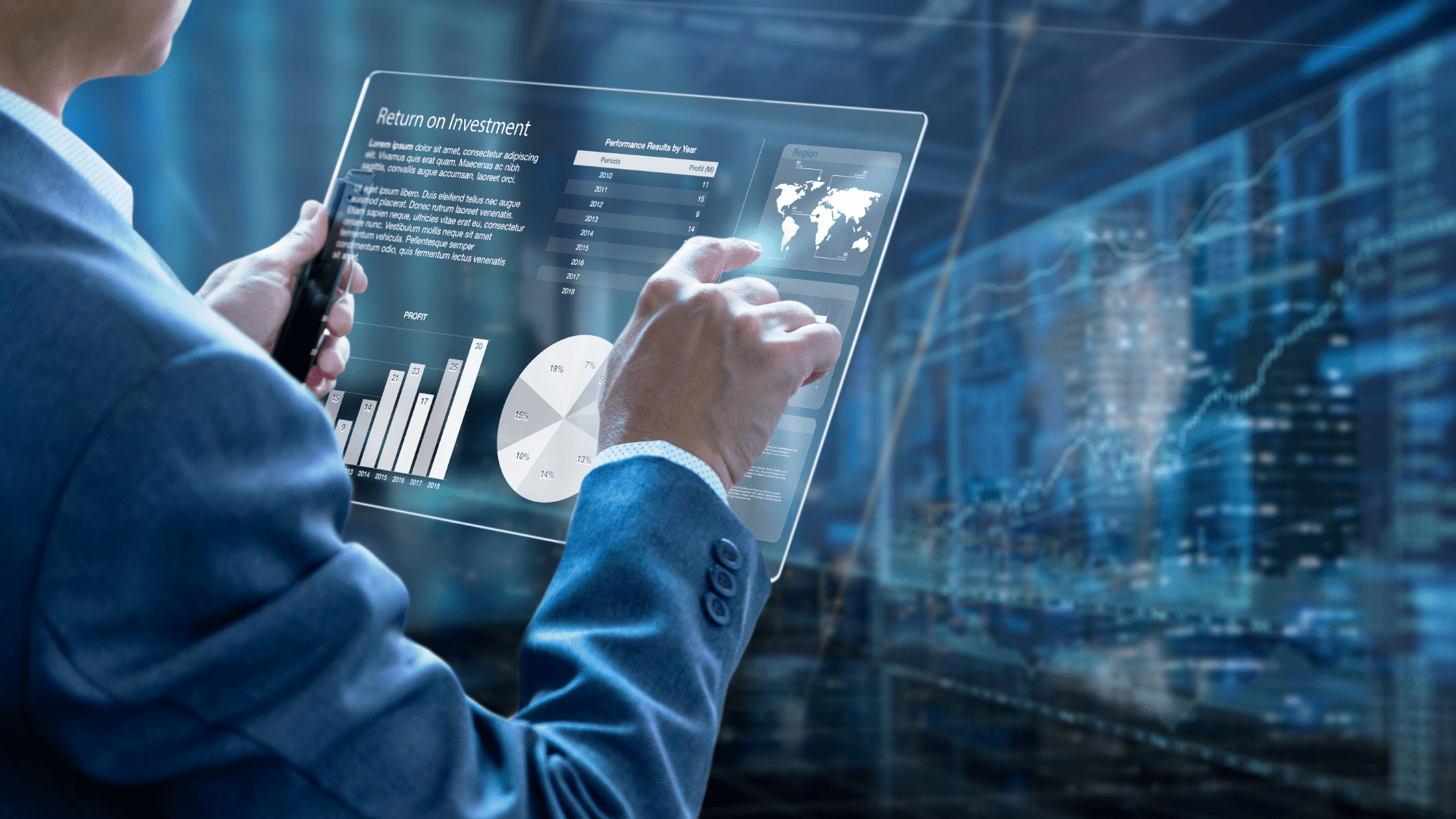 Discovery and Analysis
We identify suitable business processes for RPA and analyze them to determine their scope and complexity. This stage involves working closely with stakeholders to understand their needs and requirements to determine the potential benefits and RPA implementation costs.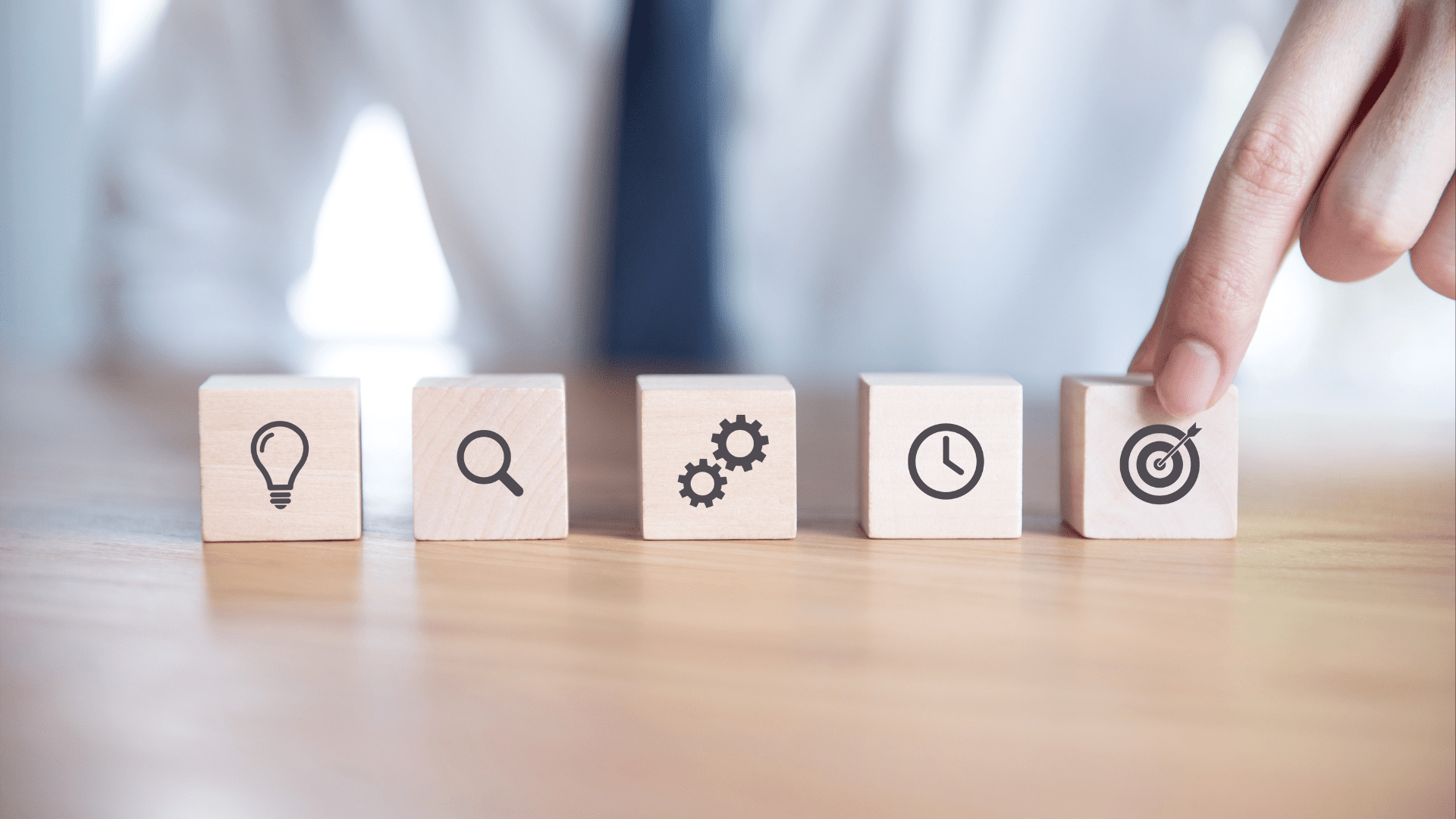 Strategy and Planning
At this stage, we develop a strategic plan for RPA implementation, including the scope, objectives, and timeline for the project. While working with business stakeholders and IT teams, we determine the resources and capabilities required to support RPA. This also involves conducting a risk assessment to identify any potential risks associated with the project.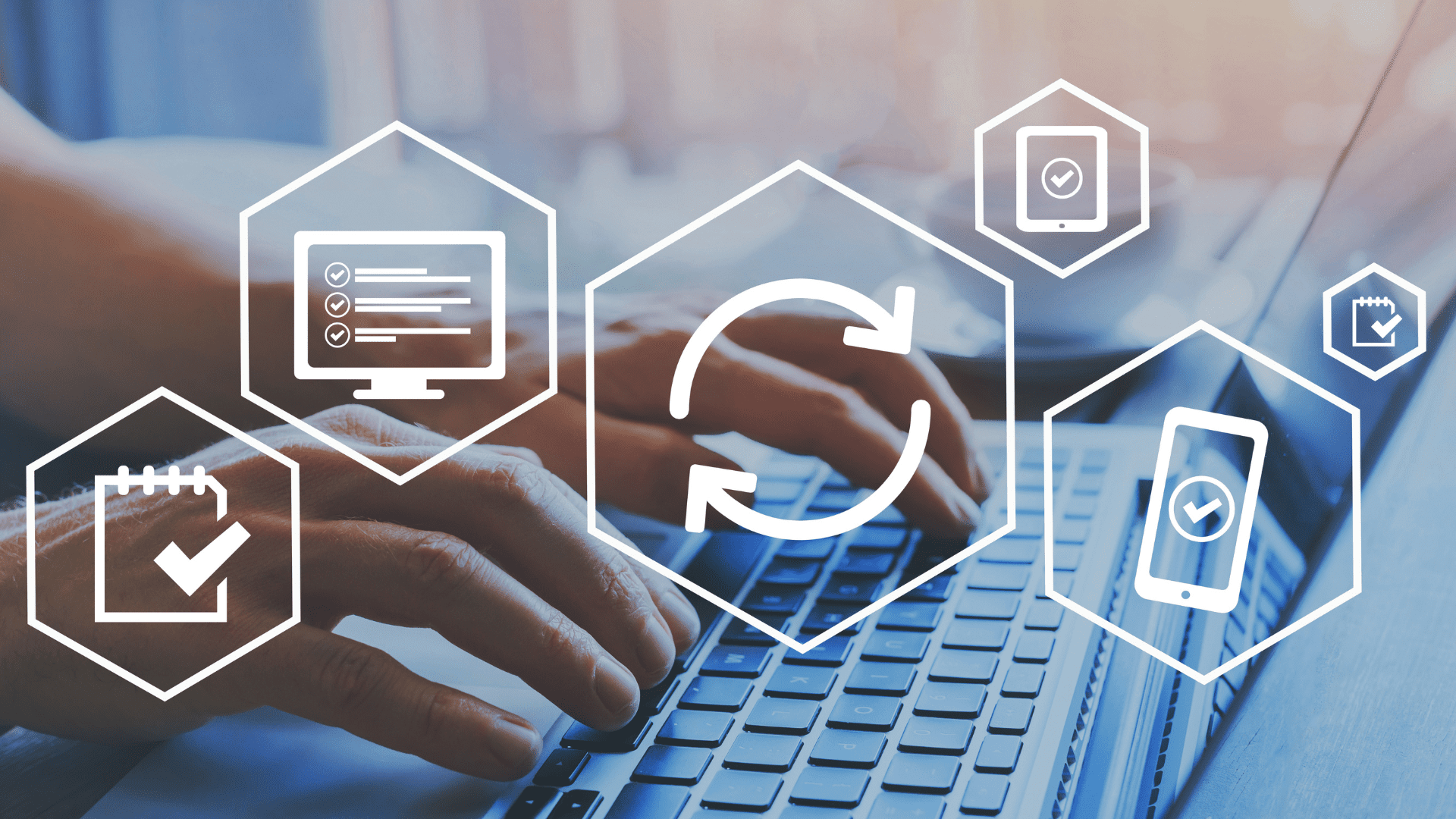 Infrastructure Setup
We set up the required technical infrastructure, including hardware, software, and networks for RPA implementation. At this stage, IT teams install and configure the RPA tools and platforms, and RPA may also be integrated with existing systems.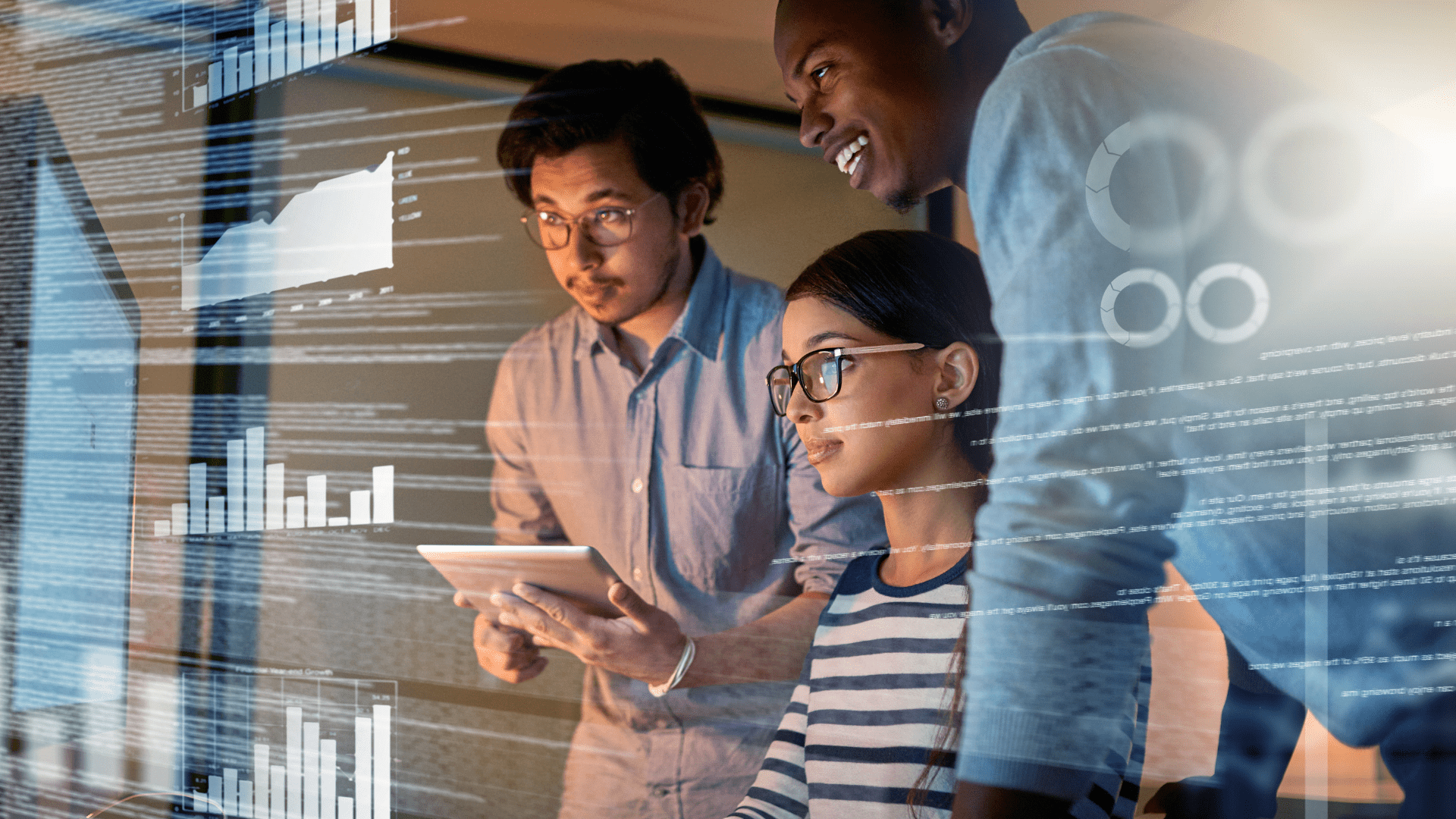 Development
We build and configure digital bots that automate the processes identified in the discovery phase and define the rules and logic that will be used to control the bots, and this may also involve testing and fine-tuning the bots to ensure that they function as intended.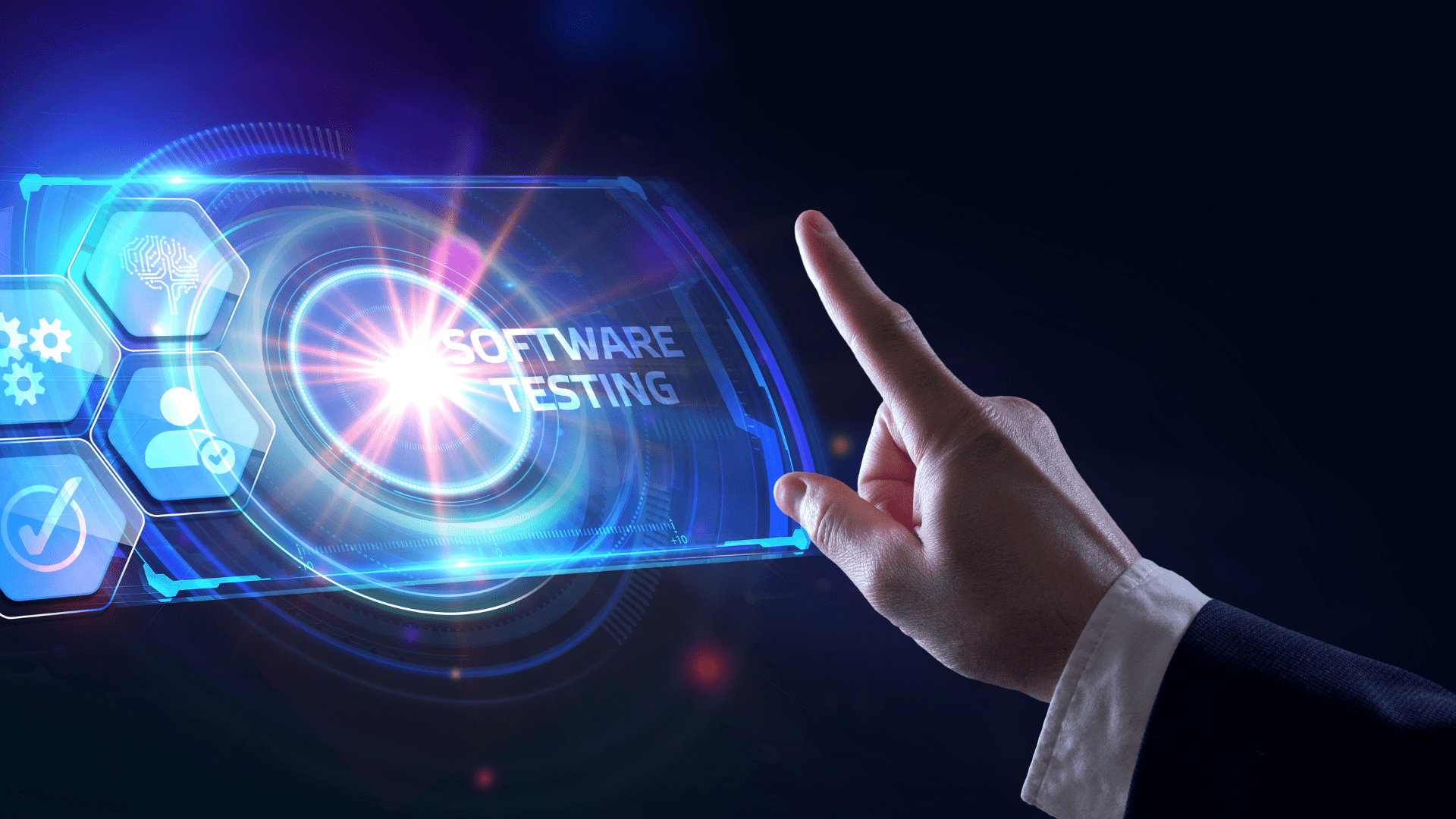 Testing and Optimization
This stage involves testing and optimizing the RPA bots to ensure that they are working correctly and meeting business objectives. During this stage, we conduct a series of tests to verify that the bots are functioning as expected or require adjustments and improvements to optimize their performance.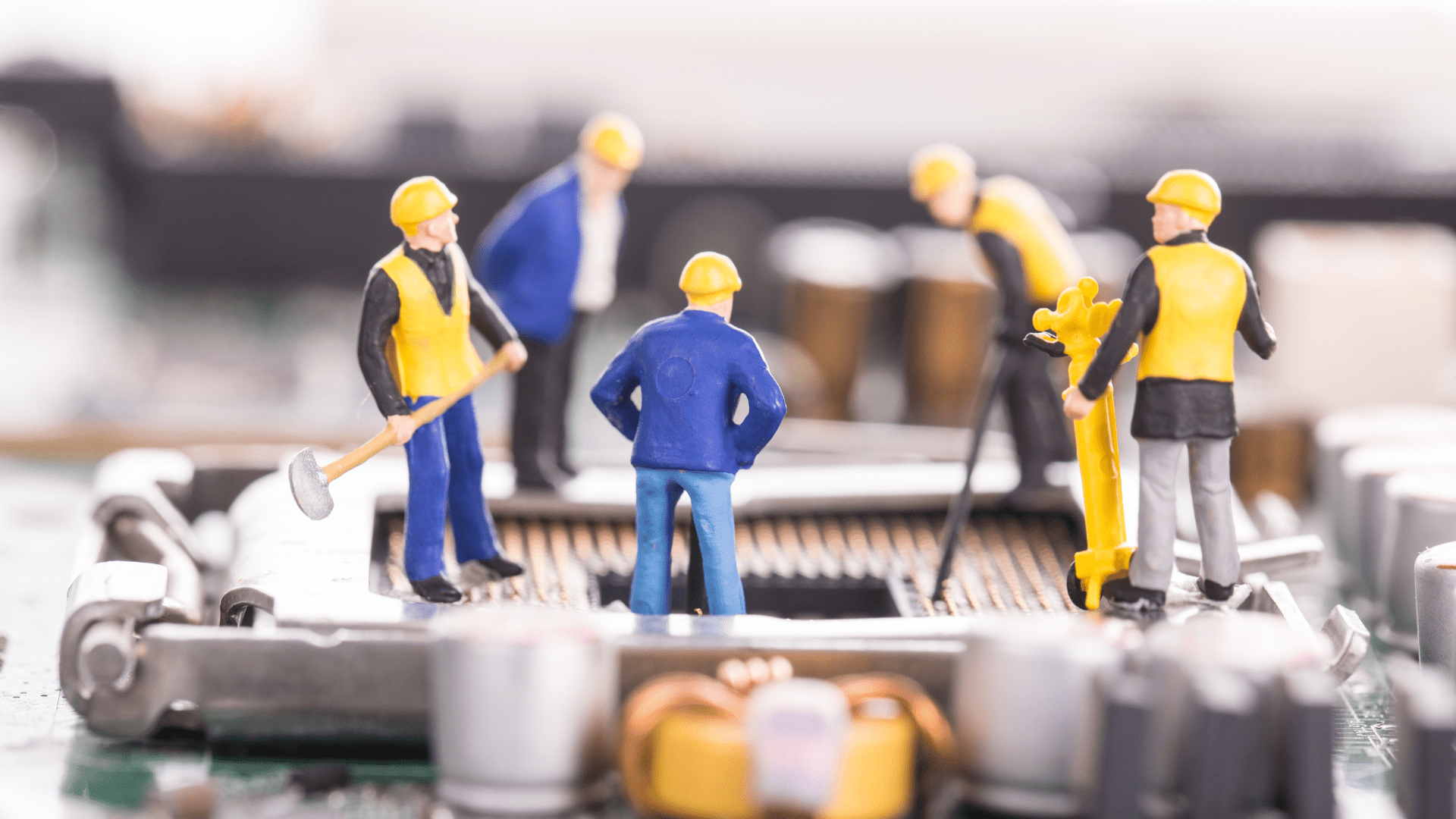 Deployment and Maintenance
RPA bots are then deployed into the production environment, automating business processes and properly integrating with the IT infrastructure.We provide ongoing support and maintenance for the RPA bots, including monitoring their performance, troubleshooting any issues, and regular updates and improvements. This step ensures that the RPA solution continues to meet the evolving needs of the Providers
RPA services use cases Across LOBs
The NuAIg Difference
Integrate Nuaig expertise in artificial intelligence, machine learning, and knowledge-based systems
Latest RPA Case Studies
Maximizing Efficiency and Reducing Costs with RPA in Healthcare: Real-World Examples
Frequently Asked Questions about RPA Services
1. What are the benefits of using RPA services?
Robotic process automation (RPA) can bring a number of benefits to organizations that adopt it. Some of the main benefits of using RPA services include:
Reduced errors
Improved efficiency
Cost savings
Improved customer service
Increased accuracy
Greater scalability
2. How does RPA work?
RPA is the process that uses software robots or bots to automate repetitive human-based manual tasks within the automation systems. Leveraging Robotic process automation improves operational efficiency, reduces errors, and enhances compliance by eliminating human errors.
3. What are some common applications of RPA Services?
Data entry and management: RPA can be used to extract, validate, and enter data from various sources, such as electronic health records (EHRs) and insurance claims, into a single database. This can reduce the risk of errors and improve the accuracy of data, as well as reduce the time and resources required for manual data entry.
Claims processing: RPA can be used to automatically review and process insurance claims, including verifying the accuracy of the claim, checking for any discrepancies, and approving or denying the claim based on predetermined rules.
Patient scheduling and appointment management: RPA can be used to automate the scheduling and rescheduling of patient appointments, as well as the generation of reminders for upcoming appointments.
Medical billing: RPA can be used to automate the process of generating and sending medical bills to patients or insurance companies, as well as tracking payments and following up on unpaid bills.
Clinical trials: RPA can be used to automate the collection, analysis, and reporting of data from clinical trials, which can help speed up the research process and improve the accuracy of results.
4. Can RPA services be integrated with other software systems?
Yes, RPA software can be integrated with other healthcare software systems, such as electronic health record (EHR) systems, practice management systems, and billing and claims processing systems.
Integrating RPA with these systems allows the software robots to access and manipulate data, as well as trigger certain actions based on the data. For example, an RPA robot could be used to extract patient data from an EHR system, validate the data for accuracy, and then enter it into a billing system to generate and send a medical bill to the patient.
Integrating RPA with other healthcare software systems can help streamline processes and improve efficiency by automating repetitive tasks by reducing the time and resources required for these tasks.
However, it's important to note that RPA integration can be complex and requires careful planning and execution to ensure that it is done properly and in a way that is compliant with relevant regulations and standards.
5. How can businesses get started with RPA Services?
The healthcare sector is ripe for automation. It can be used to streamline processes and reduce costs across a number of health sector applications, from data entry for patients to insurance claims processing. Investing in the right tools and partners can make RPA an extremely powerful tool for transforming healthcare.
Questions?
Still Have Questions About RPA Service Implementation? Contact Our Consultants for More Information
Contact us
About Us
NuAIg is an AI and Automation Implementation Advisory service provider helping aging service providers to improve efficiencies.
Learn More
Corporate Office
US – EDISON
515 Plainfield Avenue, Suite 2, Edison NJ 08817