Successful AI's Secret Sauce – HBR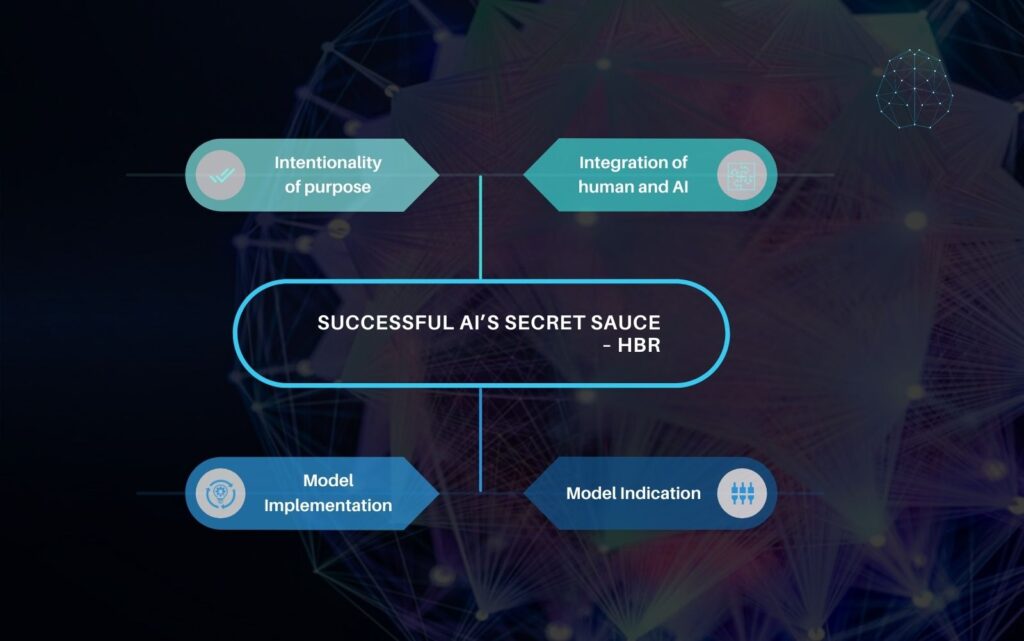 Full Article: https://hbr.org/2020/08/the-secret-to-ai-is-people
In light of HBR's research report,
Competing in the age of AI is not about just being tech driven, its about how businesses absorb tech to bring out best in people. Machines do the repetitive tasks precisely and rapidly, while humans engage in more value innovation and creativity.
The four layers for sustainable AI competitive advantage are intentionality, integration, implementation and indication.
First layer of the Four I model is intentionality of purpose, beyond the mere pursuit of profits. An intentional organization knows why it matters to the world, not just its shareholders. A great example would be Siemens. which evolved from a shareholder-profit-maximizing power generation and transmission company into a leading provider of electrification,
automation, and digitalization solutions with energy-efficient, resource-saving technologies driven by AI.
Second layer of the Four I model is integration of human and AI resources across the organization. Human and AI teams should also be structured in an integrated manner with employees having fluid roles across cross functional teams. This will help harness full power of AI.
Third layer of the Four I model is implementation. Implementation requires engaging human talent, tolerating risk, and incentivizing cross-functional coordination. To build trust in AI, it is imperative for leaders to communicate their vision transparently.
The fourth layer of the model is indication or performance measurement. Aspirational metrics that incentivize innovation and creativity encourage employees to exercise those uniquely human traits. OKRs are a better fit over KPIs for AI roadmaps.