The Power of Artificial Intelligence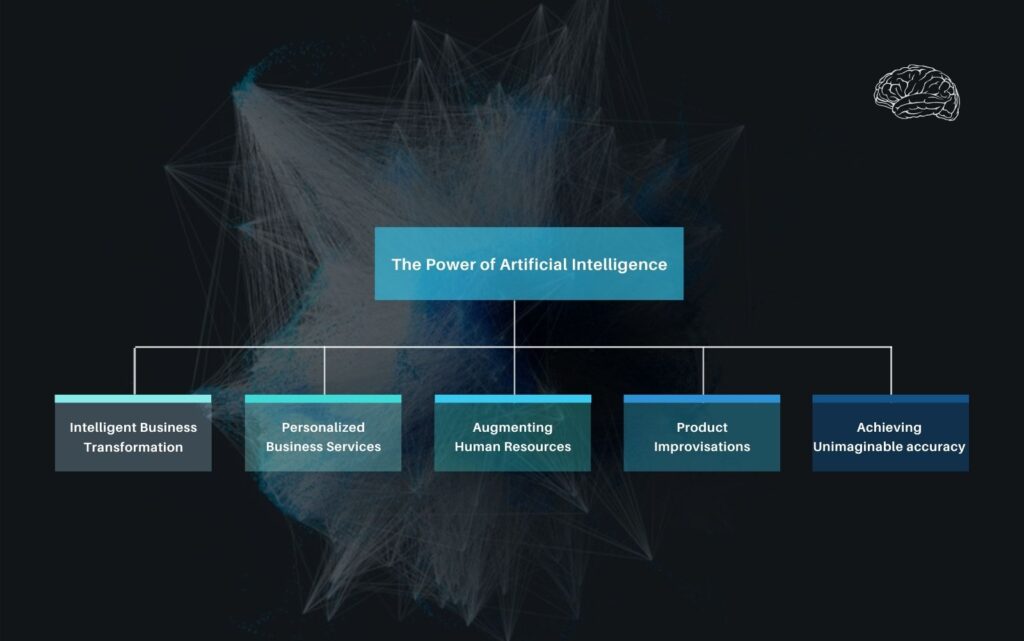 The area of Artificial intelligence is undergoing endless advancements. The business landscape is highly technology-driven and dynamic which requires focus not only on growth but also on bottom lines and cost lines. AI can help you conquer this next cube of growth: 
Intelligent Business Transformation: Companies can completely transform their business processes by leveraging the right AI tools & technology. Its adoption can entirely revolutionize business processes and automate mundane tasks. Businesses can leverage the power of algorithmic decisioning.
Personalized Business Services: Personalisation with AI has become the future of marketing. A majority of customers appreciate personalized services more than just "wake" replies. AI innovation has proved to boost the customer experience by providing notable customer services & engagement.
Augmenting Human Resources: AI can help your organization make sense of all the data it has churned so far and augment human decision making. The algorithm learns from data, recognize patterns and simulate outcomes resulting in automation of mundane tasks. AI thus helps shift your focus on value adding processes.
Product Improvisations: Analysing customer data and augmenting the product's existing strengths, Artificial Intelligence plays a vital role in understanding your product's perception and scope of improvements. AI technology can be used to collect & analyse data to recommend scope and scale of fine tuning in existing products.
Achieving unimaginable accuracy: As AI's role in industry continues to expand, companies of all sizes are finding ways to implement this emerging technology because of its highly accurate predictive analytics capabilities. Organizations can improve their precision with data driven decisions.