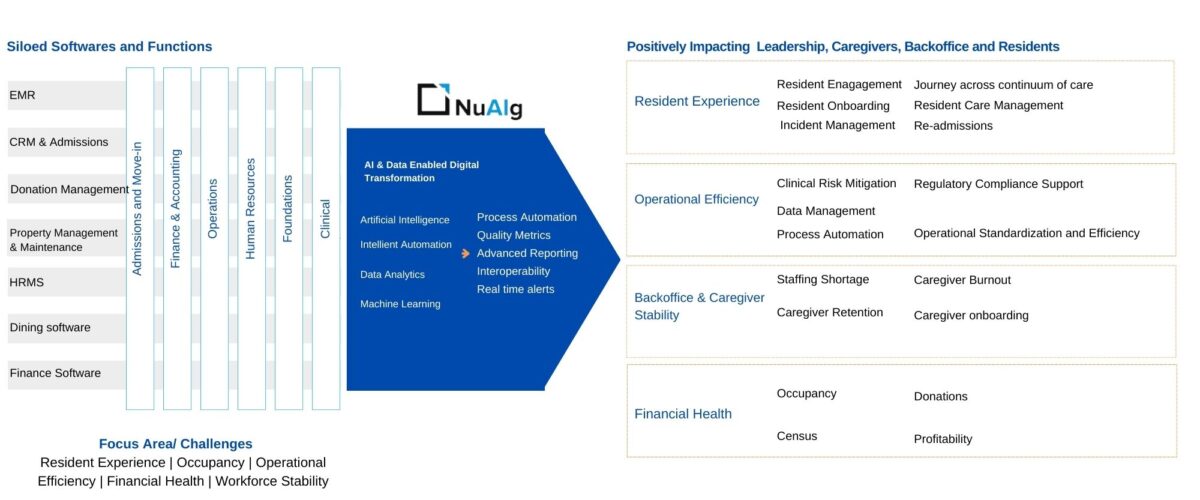 Empowering Healthcare Providers to Alleviate Challenges Across the Internal and External Stakeholder Spectrum
We have mapped 100+ processes specific to LTPAC and CCRC across LOBs including Finance, Admissions & Move-ins, HR, Operations, Marketing and Foundation.
As AI & Automation Advisors and Implementation Partners, we make sure that automation works as a bridge through the maze of softwares, breaks the siloes, and reduces repetitions by creating automation augmented workforce.
Intelligent Automation
Drive Efficiencies, Boost Productivity
Case Study:
Leading CCRC Maximizes Efficiency with AI: Unlocking 45,000 Hours of Automation Potential and Achieving 40% Average ROI
AI-Powered Holistic Insights & Analytics
Smarter Decisions, Better Outcomes
LeadingAge CAST Case Study:
NuAIg Enables a leading CCRC's Digital Transformation with AI-Powered Data Analytics Platform
Caregiver Retention using Artificial Intelligence
Our Presence at Industry-Specific Thought-Leadership Events and Publications
LeadingAge Annual Meet 2022 at Denver.
We presented our success with AI and Automation at LeadingAge Annual Meet 2022 at Denver in a dedicated session with a Provider CIO.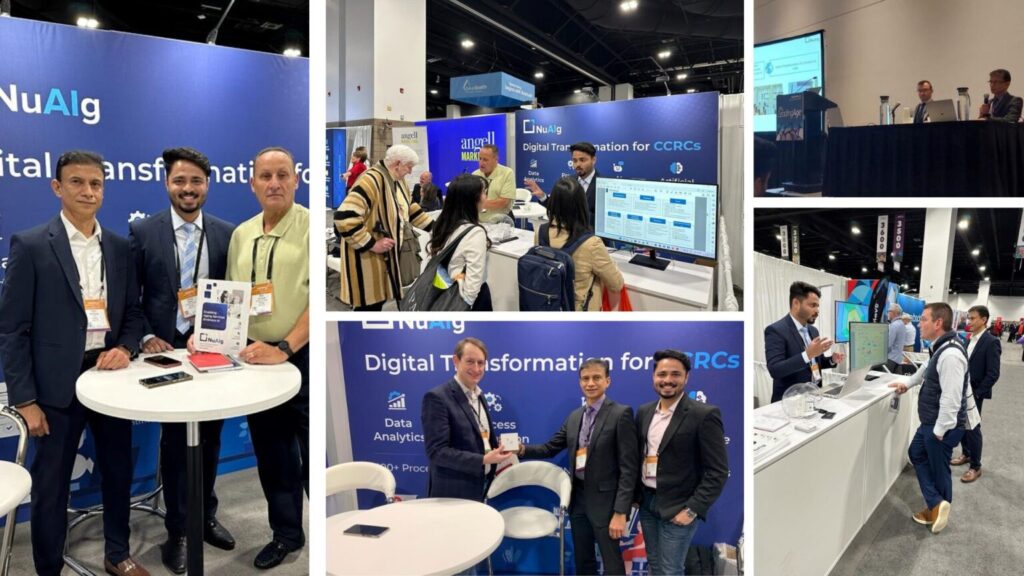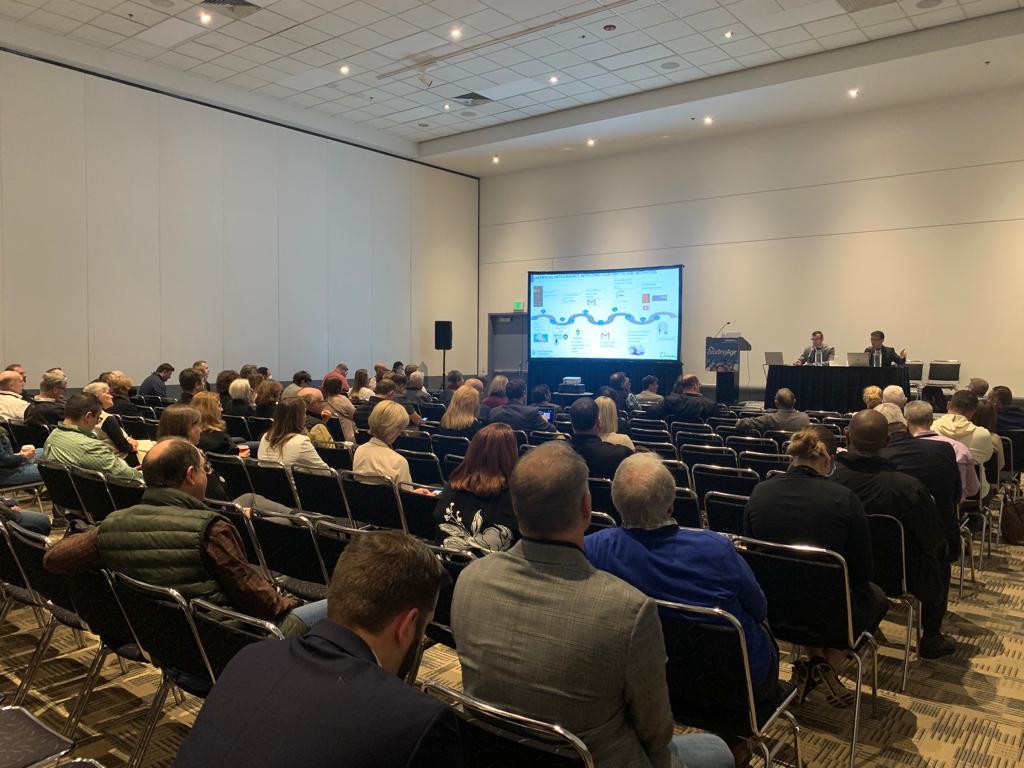 Ziegler LeadingAge National Senior Living CFO Workshop 2023
We showcased how AI, Machine Learning, and Robotic Process Automation is empowering Senior Living with efficient staffing with Practical Examples, and Future Solutions
Argentum Senior Living Executive Conference in New Orleans | 5 May - 8 May 2023.
We demonstrated how we have been helping providers unlock the full potential of AI, Automation & Analytics.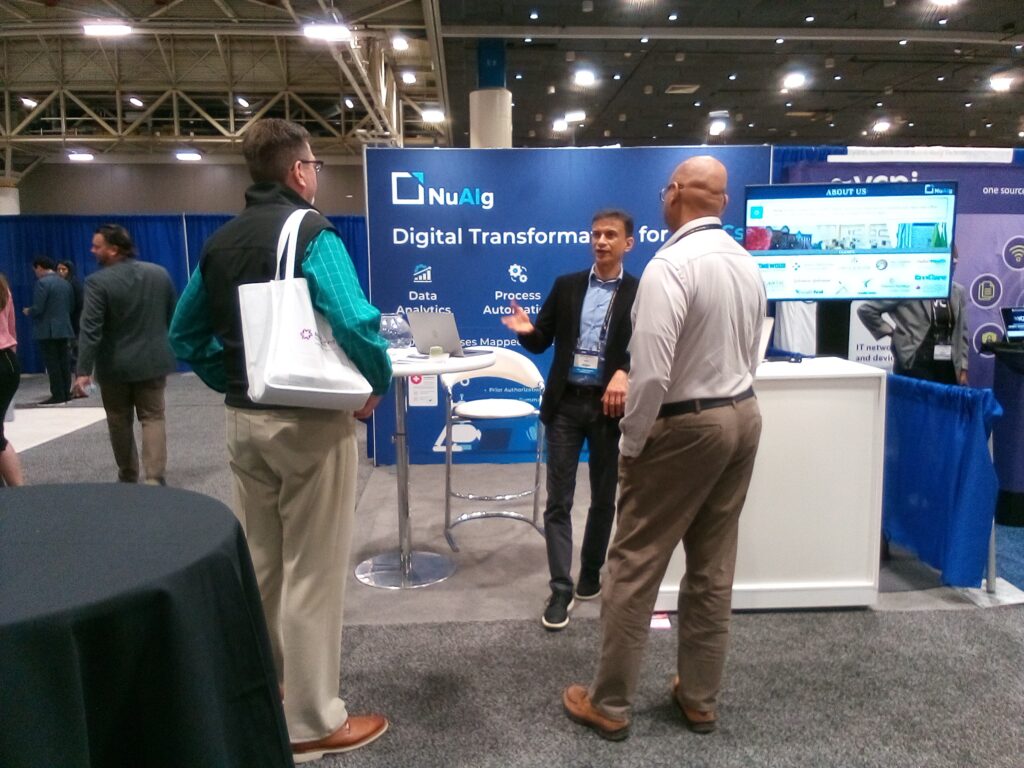 NuAIg Case Study Published by LeadingAge CAST
Improving Decision-Making, Accountability, and Productivity through Data Analytics
Major KPIs Incorporated:
Historical Occupancy Trend Analysis

Analysis of Donations Received

Budget vs. Actual Finance Analysis

Trend Analysis with respect to Payer Type
Improving Productivity, Resident/ Employee Experience and Driving Innovation through Digital Transformation
Key Metrics:
Increasing Productivity

Reducing Labor Costs

Improving Resident

Employee Experience

Driving Innovation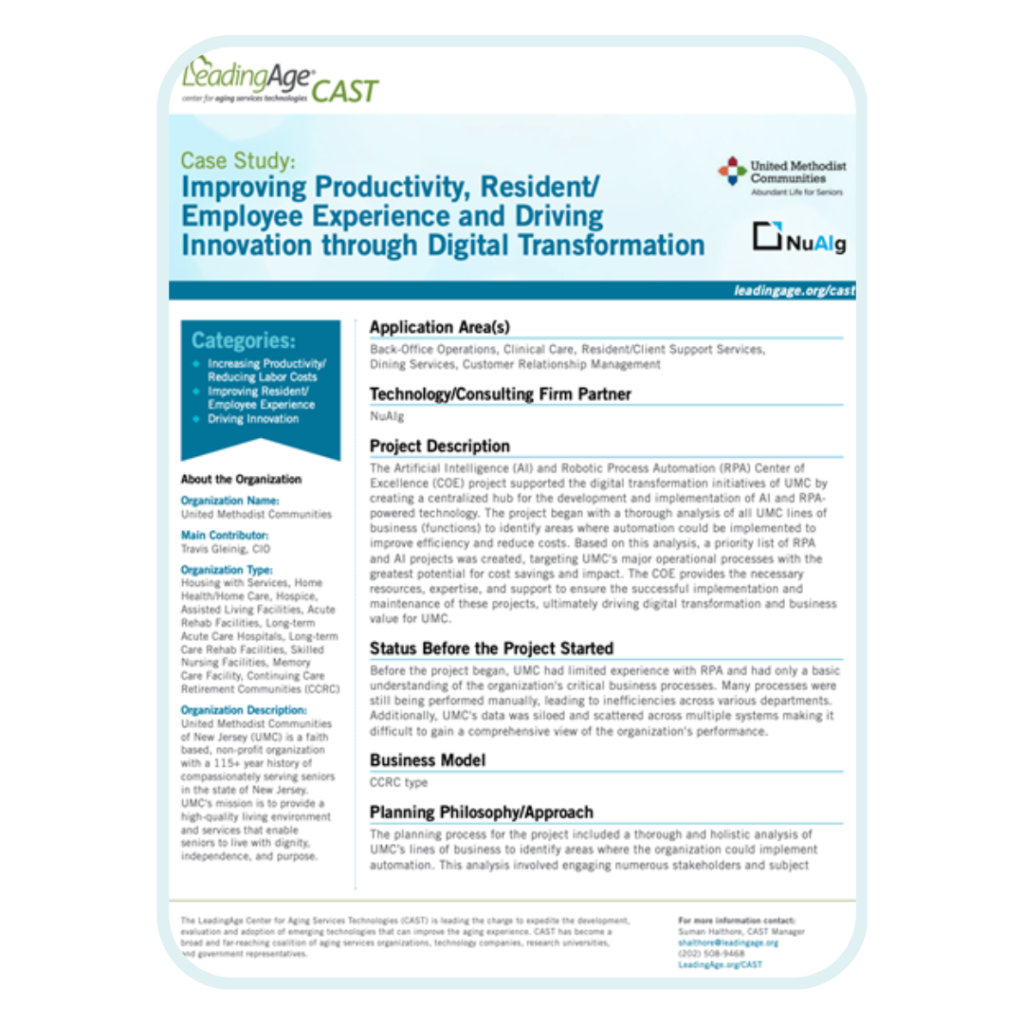 Corporate Office
US – EDISON
515 Plainfield Avenue, Suite 2, Edison NJ 08817